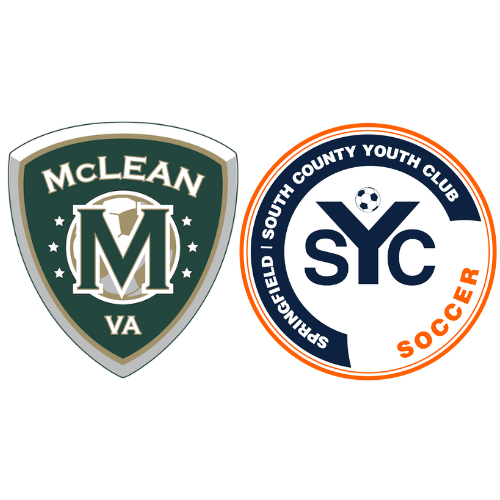 McLean Youth Soccer (MYS) and Springfield South County Youth Club (SYC) Boards of Directors are excited to announce a new alliance to jointly build teams to compete in the Elite Clubs National League (ECNL) level, effective for the 2021-2022 seasonal year. This alliance will increase the competitiveness of our squads and deepen our coaching experience and development opportunities. This move will help ensure both clubs can maintain and improve our premier competitive standing at both the regional and national levels. This alliance is critical for both Clubs' long-term strategies in rising to meet the increasing competition for ECNL-level elite players and coaches throughout the Washington DC metropolitan region.
Even a positive change like this one may raise uncertainty and apprehension. The goal of both clubs' Boards and leadership is to be as open and transparent as possible. We will work to effectively communicate and proactively identify and work through any potential concerns as they arise. The following information provides some additional detail to support this goal.
What this alliance means for MYS: Through this alliance, MYS will expand the ECNL talent pool with SYC elite players competing for positions on the twelve (six Boys' and six Girls') ECNL teams. In addition to helping maintain and improve the existing MYS ECNL rosters' competitive strength, this alliance will also help MYS expand the current ECNL camps, present co-branding opportunities, and provide increased tournament revenue by leveraging a broader footprint of facilities.
What this alliance means for SYC: SYC players will have the opportunity to try out for and compete at the elite ECNL level under the new alliance teams. The alliance will give SYC players a chance to benefit from an elite-level development path beyond what is currently available today. SYC elite coaching staff will also have the opportunity to participate at the ECNL level and benefit from the combined strength of both clubs' training and development resources. Further, this alliance will help SYC expand current tournament revenue by leveraging a broader footprint of facilities and benefit from co-branding opportunities.
What comes next:
Structure: MYS will maintain its existing ECNL charter and the current ECNL teams will operate under a new name, logo, colors, and uniforms. MYS and SYC players who are rostered to the ECNL team may be dual-rostered within their respective club as well. Over the coming days, the clubs will establish a formal agreement to govern the alliance and commitments for sponsors, vendors, physical assets, and other necessary contractual arrangements.
Administrative: The clubs are working on a common code of ethics and code of conduct for coaches, players, and families under the alliance. Most notably, the clubs have agreed that ECNL coaching will not represent a conflict of interest for either organization.
Technical Interchange: Technical staff at both clubs are already working to integrate SYC coaching staff into the existing ECNL program and develop a plan for ID (Identification) Sessions for all players
FAQs:
The main objective of this innovative alliance is to provide a complete player experience to our players and families at the ECNL level. The landscape of youth soccer continues to evolve, and clubs must evolve as well to stay relevant. This revolutionary coalition will help us do just that. We are excited to continue our growth in the youth soccer landscape with this MYS/SYC alliance.
Why MYS and SYC?
Player Development: As member driven organizations, this alliance will facilitate and grow pathways and opportunities for player development as well as maintain and increase competitiveness at the elite levels. Our goal is to be a model program known nationally for developing players at all levels, creating a culture of inclusion, innovation and excellence, and positively impacting our communities. The ability to provide a superior player experience at the elite level is our top priority and purpose of this alliance. We believe this alliance will also strengthen the scope of each club.
Staff Development: The ability to collaborate and provide professional level coaching education will help to strengthen our coaching staff.   Coach representation from each club will be an asset to ensure seamless cohesion of the teams. With strong coaching strategies and continued staff development, we believe the player experience will be the finest in the Northern Virginia area. These exclusive coaching opportunities will enable us to retain and attract highly qualified and diverse individuals.
Economies of scale: The collaboration of two forward-thinking clubs to form this new union will give us the ability to leverage size and scope for sponsorships, facilities, and relationships with local government, and communities. It will also provide resource sharing in some key areas of each club, to include registration systems, uniform and equipment vendors, websites, etc.
Long-term Projects: An additional benefit of the partnership is the potential to create resources to undertake projects in the future, ranging from development of playing facilities, to providing more scholarships to give greater access to the game for our players and hosting showcase tournament events.
Is this a Merger, Acquisition or Partnership?
It is none of the above! This is an Alliance between two clubs, MYS and SYC, which will expand the pathway for more elite players. It is critical to protect the integrity of each club and the current business operations of each club will remain the same. Each club will retain their own identity with the exception of the ECNL level teams. The new entity will simply offer both clubs the ability join as one for the elite level teams.
What does this mean for the Spring 2021 season?
There are no changes for the 2021 spring season. All teams will continue to play with their respective club teams. New alliance teams will be formed for the 2021-2022 seasonal year.
In what League will the teams participate?
The teams will play in the Elite Clubs National League (ECNL). All non-ECNL teams in MYS and SYC clubs will continue to compete in CCL, EDP, and NCSL as separate entities in their respective clubs.
For what age groups will this Alliance be offered?
 U13, U14, U15, U16, U17, and U18/19
What is the ECNL Program?
A nationwide soccer league comprised of top clubs that provides elite development and game opportunities, and exposure to college recruiters through guaranteed play in national showcases, while allowing players to participate in high school soccer. The ECNL mission to "Raise the Game changes the youth soccer landscape through innovative player-centered programs that raise the standards of quality and experience in all aspects of the game."
How will MYS/SYC and its players benefit?
High-level competition, retention of top players, guaranteed participation in national showcases. Improved and reliable exposure for all ECNL teams to college recruiters - no longer dependent on qualifying for US National League or top showcase brackets. Allow players to continue to play in high school and teams to play in local tournaments. Creates a pathway for all players seeking an elite travel experience.
When will the coaching slate be announced?
The new coaching slate will be announced in April.
When and where will ID (Identification) Sessions and tryouts be held?
ID Sessions will be announced later in April and tryouts held at MYS and SYC fields.
Will there be a new logo, club colors and uniforms?
Yes, we will incorporate the colors of both clubs to create a new shield. Using the colors of MYS and SYC will represent the unity and cohesion between the two clubs for this new entity. Players will be required to wear a new Adidas uniform kit. Both clubs are entering the new uniform cycle for Fall 2021 so the timing for new uniform kits remains the same.
What are the associated costs for players?
The player registration fee is $2,500.00. Additional fees not included in the registration fee are: uniforms, tournament entry fees, tournament travel expenses for players and coaches, additional supplemental league fees other than ECNL fees.
What is included in the registration fee?
Coaching fees, referee fees for league play, league fees (ECNL), insurance fees, coach background checks, Fairfax County in-county field use fees, pre-season camp, staff compensation and administrative costs.
Will my practice location change?
The teams will split their training days equally between MYS and SYC fields.
Will financial aid be available with the new alliance?
Yes, the financial assistance process will continue, as it exists today, which includes an annual application and review process.