McLean Youth Soccer leaders and players presented the Georgetown University Lombardi Cancer Center with a check for $2200.00 as a result of a fundraising effort held by the club and supported by its players during the month of October. In honor of Breast Cancer Awareness month, MYS teams purchased pink socks and sported them during the month of October!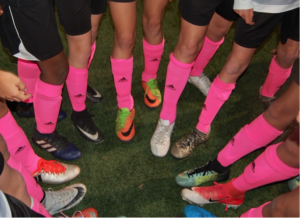 "Georgetown's Lombardi Cancer Center seeks to prevent, treat, and cure cancers by linking scientific discovery, expert and compassionate patient care, quality education, and partnership with the community; guided by the principle of cura personalis, "care for the whole person. The McLean Youth Soccer club's fundraising efforts will allow us to continue our lifesaving mission in the Washington, DC area," states Justine Weissenborn, Director of Development for the Center.
"There may be no more a terrifying moment in a woman's life than being diagnosed with breast cancer. It's a disease that affects everyone in a women's life with all of those lives changed forever.  The soccer community has an opportunity to ensure that every year fewer and fewer women must have that terrible conversation by supporting the efforts of such institutions as the Lombardi Cancer Center. I am extremely proud of our players for making a difference and helping to continue to raise awareness," Louise Waxler, Executive Director, McLean Youth Soccer.
For more details about the live-saving work performed at the Center visit – https://lombardi.georgetown.edu/