The word "challenge" holds simple meaning to most. But to Jamil Faryadi it encompasses his journey in life, and in particular the sport of soccer.
As a McLean coach and U9-U12 Boys Age Group Director, "challenge" for him means something on and off the field. To challenge a player, or challenge the ball, or challenging  yourself by trying new things or taking on new opportunities.
It also means representing your neighborhood on the pitch.
Jamil began playing soccer in his youth in Afghanistan, where there was little to no organization in the sport. "Everything was basically happening on the streets or on the playground of the elementary or middle schools of Kabul. That was if you were lucky that your school had a playground where you could play," he said.
Kids in the surrounding neighborhood would play pickup with one another. But when it was time to play against somebody else, an official system was created to communicate with the other neighborhoods teams.
"When we decided to play against somebody else, the way it works over there in Afghanistan (and still does) is basically all the kids in your neighborhood would write on a piece of paper the word "Challenge." We would send our letter with a couple of our boys who would go to the neighboring street and deliver it to their guys. And if they accept the challenge, they would come in and we would play against them."
Local challenges would be a way to showcase skill but also show pride for your neighborhood. Elders would walk by and watch, hoping their team would edge out the rivals of the neighboring streets. And even though the system lacked the bounds and resources of organized clubs, it still developed a passion for the game that Jamil still carries with him today.
"In a nutshell, creativity comes in when you're forced into not having opportunities," he said.
In his early teens in the 1980s, his family moved to Germany due to the political unrest in Afghanistan. Jamil and his uncle of the same age, Jawed Sanie, found solace and familiarity in pickup games while living in Bad Nauheim, 40 kilometers north of Frankfurt.
"I was under the same assumption that we would send challenges to other teams," Jamil said. "We had the same mentality we had in Afghanistan."
Their pickup games took place on a grass field in a small valley surrounded by Azalea bushes. Above it, houses with balconies lined the hillside overlooking the field where one house in particular stood out the most to him. Jamil noticed a man who always sat on his balcony during the early evening hours smoking a pipe after dinnertime.
After watching for weeks, the man came down to them and introduced himself as Herr (Mr.) Steuer. When he discovered that both Jamil and his uncle didn't play for any local clubs, he invited them to come join a club in the area where he was coaching.
Herr Steuer eventually became one of the most influential figures in Jamil's life for years to come, as he introduced him and his uncle to the organized game of soccer.  He was very kind, but also very stern and disciplined in the way he conducted his training.
"[Herr Steuer] took us to our very first club where we eventually played for 3 years in the rural part of our city that we lived, it was called SG Ostend of Bad Nauheim," he said. "Basically as we walked in for the first time, we both felt like royalty because it was an actual club — soccer field, clubhouse, canteen, various sizes of cones. We thought, 'man, this is it.' In reality, it was just a simple little shack, a clay field and a few grass fields."
The club's initiation for all it's members was simple: juggle 1000 times. The task could be broken up into batches of 10, but until you hit that magic number, they were not able to practice with the rest of the team.
It took Jamil almost three weeks to complete the task. Other players came, started and finished before he was able to hit 1000.
"So that's the first lesson of the game I learned: Just focus on the first 10. Do 10, then do another set of 10, another set of 10. I did not know that, but that was my first time learning this game in a very organized way. It was a lesson in persistence, patience, perseverance and hard work."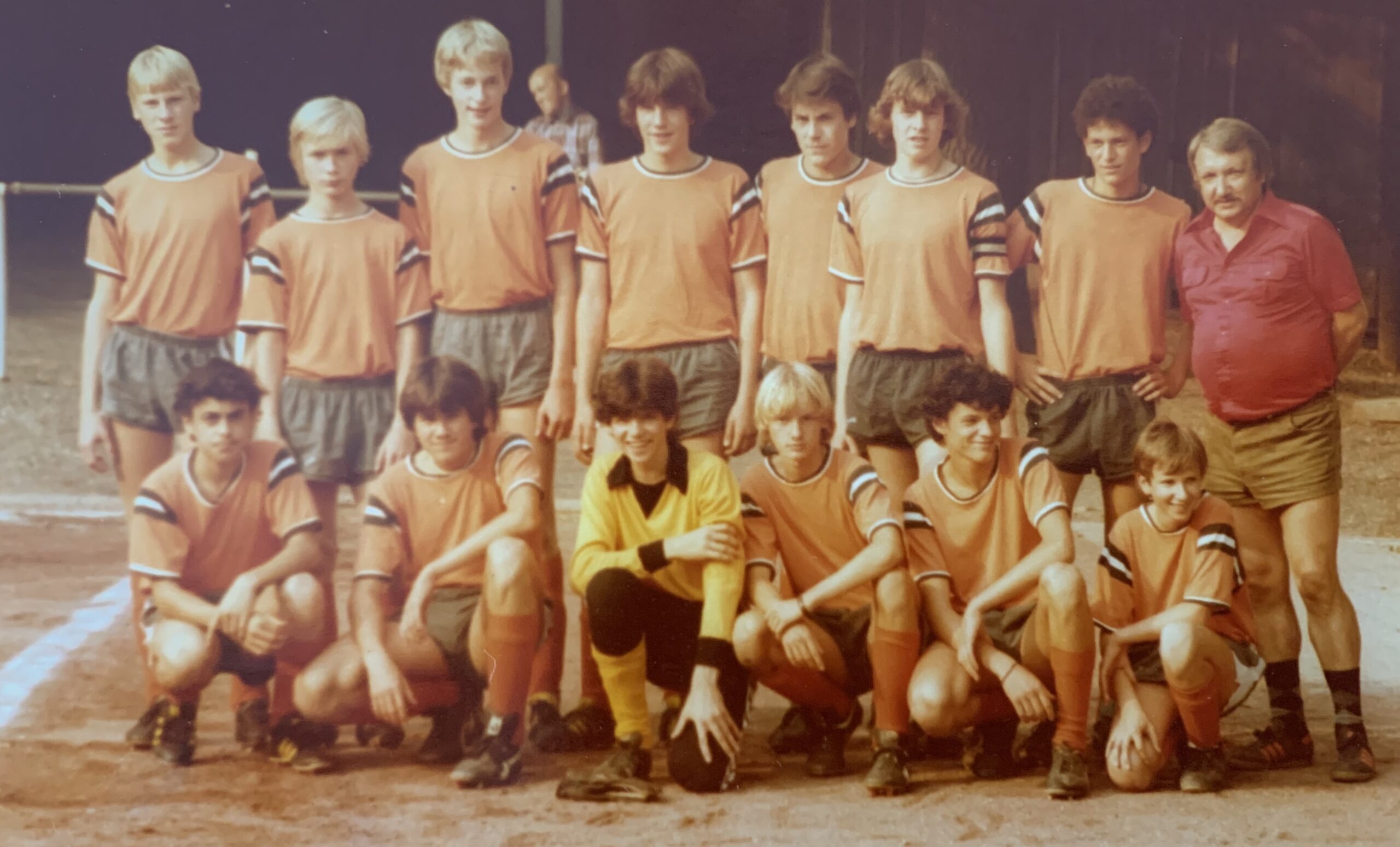 Jamil (bottom left) with his team in Germany. Herr Steuer (top right) still is an influence in Jamil's view of the game.
Throughout the next few years at SG Ostend, Jamil learned more and more about the tactical side of the game from Herr Steuer. He learned how to analyze the opponent and approach the game accordingly. He brought all of those lessons with him to the US when his family immigrated stateside.
Many of his extended family members joined him in the US, a monumental step toward a new life. He fondly remembers the plane ride into JFK where he could see the Statue of Liberty for the first time. A number of Polish immigrants on the plane started a 'USA!' chant, seeming to shake the entire cabin.
Jamil's family settled in northern Virginia and have been here ever since. As a teenager, he attended Lake Braddock High School, even having some overlap with Mia Hamm in 1989.
He and his uncle played on the high school team and also were part of a haphazard club team that was thrown together using talented rec players from the area. Eventually, he and his uncle moved on to Radford University where his uncle was recruited to play. Because Jamil wanted to join him as well, he was first asked to be a "manager" and training player for the first year. He joined the team as a full time player as a sophomore.
However, his playing tenure was short lived at Radford. He returned home to care for his family during a recession, leading him to begin his coaching career — ultimately putting him on his path to McLean.
What started as a love for pickup and playing the game became a full time job when he was seen by Hugo Phan and Clyde Watson at the Fairfax Sportsplex. With Hugo he was simply a demonstrator for the early days of the HP Elite clinics. After Clyde saw his skill and enthusiasm as a bystander, he asked him to join him in creating Team America in early 1994.
"The rest is history," he explained.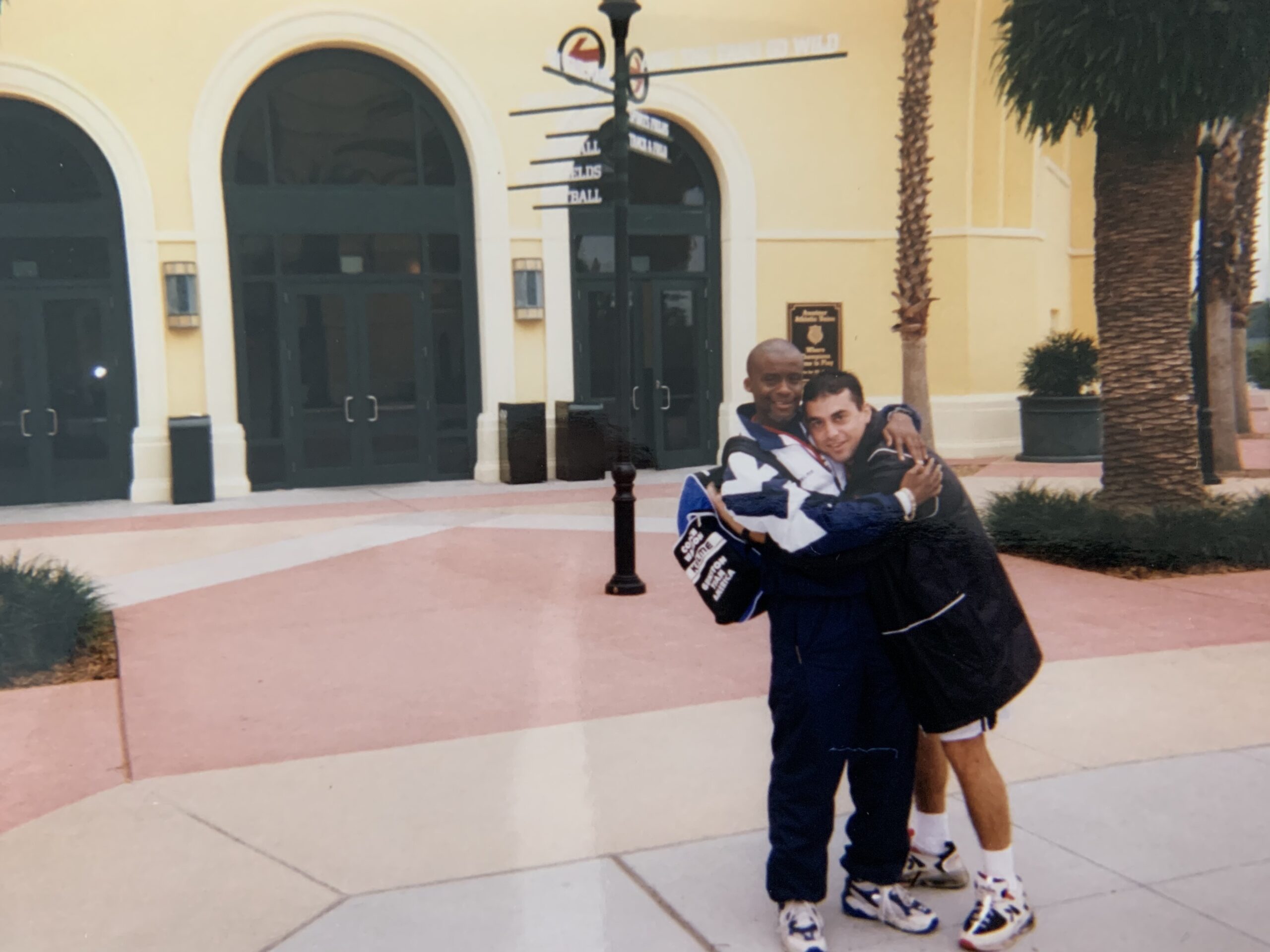 Jamil and Clyde Watson began working together in the early 1990s.

Team America took shape with a number of high-level teams and coaches — many of the original staff members are still big names in the DMV today. Those teams competed on the national stage, even taking home hardware at the very first Disney Showcase in Florida.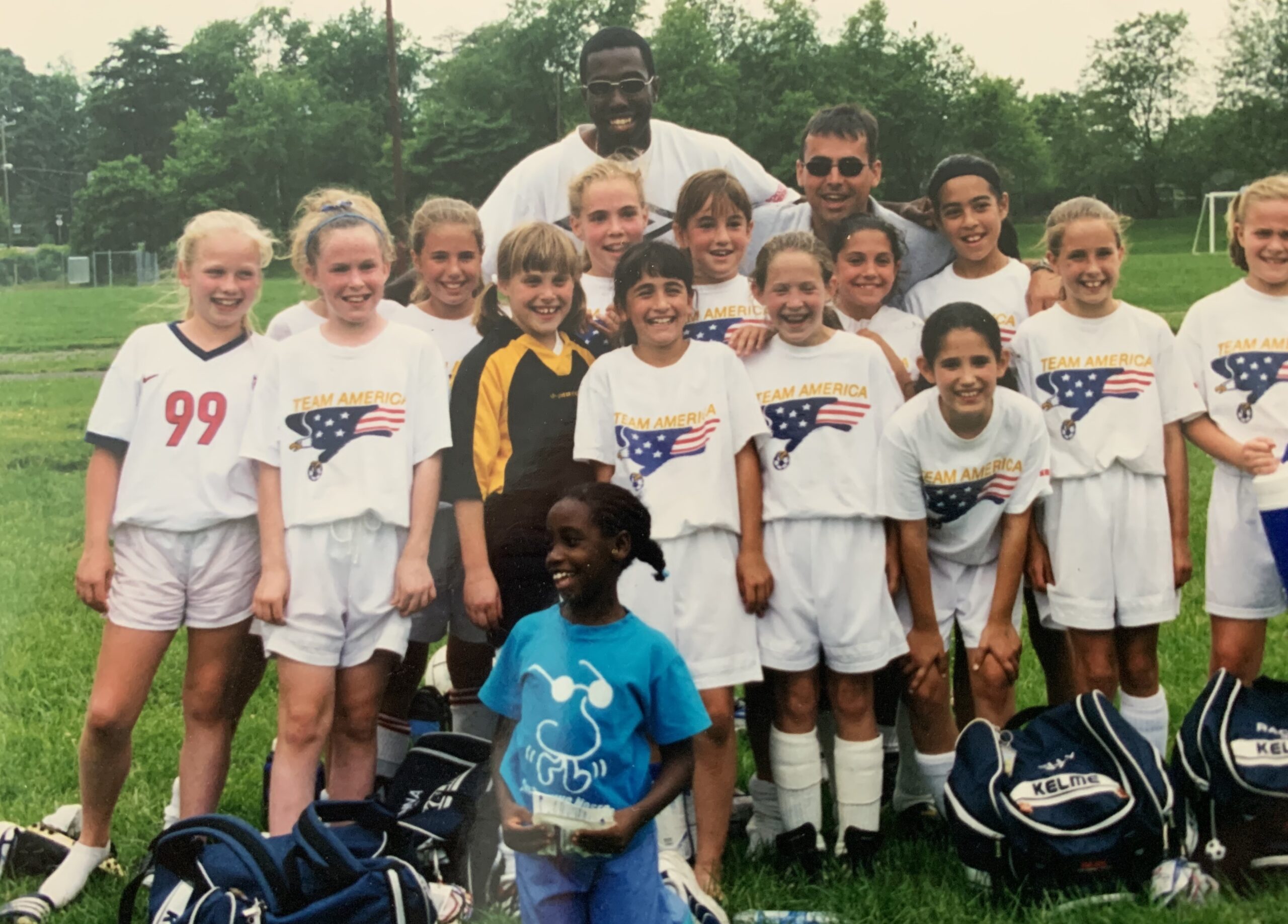 Team America saw a number of elite coaches and players — including Molly Menchel, a current MYS staff member (first row, fourth from left).
Eventually, he joined McLean in 2000 where he has been ever since. Jamil was instrumental in setting up the club's structure that's seen today, implementing a board and management positions. As the first club in the area with Age Group Directors, he headed the U13-U15 girls age group for over a decade.
After a year-long absence to serve in Afghanistan with the US military, Jamil moved over to MYS's boys side in 2012. His goal was and still is to better develop the younger players in the club so they are successful later in their careers.
I really think this is my calling," he said. "The younger age group has a long way to go to be the best. I realized that that's one area of soccer in this country that has not been developed to the level that it should."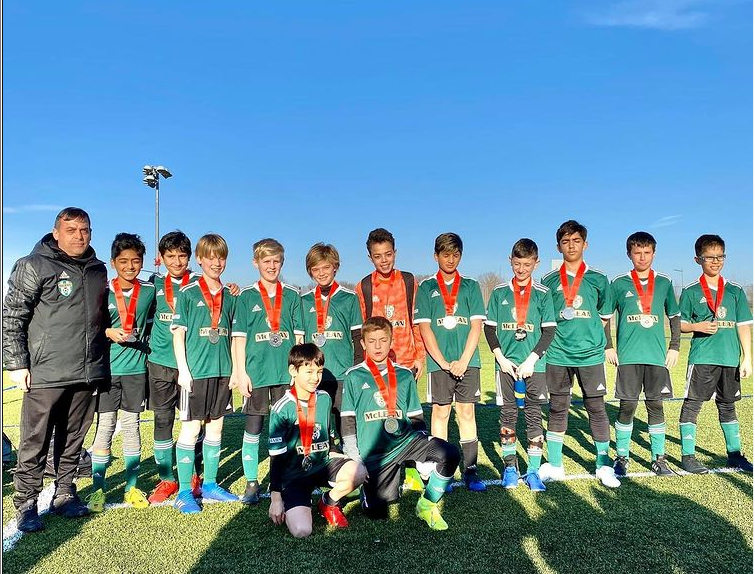 Jamil Faryadi and his 08 Gold team, who took home silver at a tournament in March.
His idea of successful youth players starts with the development of high-level coaches overseeing them. His role as an age group director means he gets a hand in choosing the right personalities for each team.
"The top coaches in this country should be in the youngest age groups, but how do we get them all educated?" he explained. "We have to understand the best way for these kids to learn, become successful, we have to make the game enjoyable for them. But consequently, it's about how we get the right coaches in there. Just because somebody knows a lot of soccer, does not mean their personality is right or understand teaching and especially the young ones."
"Some coaches feel they need to cement their place among the coaching society and to appease parents by winning games. As a result, our young kids are being sacrificed for the purpose of a coach's success," Jamil said.
He believes it's his role and responsibility as the Age Group Director to guide other coaches to see their strengths and weaknesses, and use them in a way that serves the players first. Each kid and team is vastly different, and the best coaches are able to utilize those differences to maximize each player's individual success.
That in itself is a massive challenge, but Jamil sees it as a way to constantly grow and change with the game.
"I'm very competitive in the sense that I don't want to fall behind any other coach. I know I am a very good student of the game, and I am not afraid of the hard work," he said. "I know I will give my best when coaching at any level."
Jamil's next challenge remains a mystery, but he's confident he can meet it using the vast knowledge he's collected over the years in his different roles.
One thing won't be a challenge, though: his passion for the game isn't going anywhere.