SHARE OF McLEAN - FOOD DRIVE
Through the generosity of the MYS community 500 pounds of food and other personal items (22 boxes and 7 bags of food and household items like toilet paper, paper towels, diapers, toothbrushes, toothpaste, etc.) were donated to Share of McLean. All donations go towards helping feed over 350 local families and over 100 senior citizens in our community! Thanks for everyone who donated items.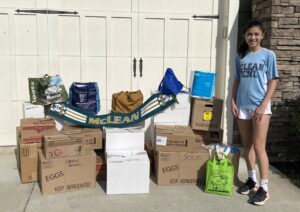 Supporting Area Healthcare Workers
Thanks to the support and generosity of MYS families, the club has raised $3700 in funds to be donated to INOVA Healthcare workers! Through the One Common Goal and McLean Strong Fundraiser, our membership has chosen to show their MYS spirit and to make sure front line healthcare workers in our area have the personal protective gear they need to stay safe while working to save lives. T-shirts and masks ordered will be arriving to your home shortly. We are stronger together!

The fundraiser to support Breast Cancer Awareness was a huge success! Thank you to all the teams and individuals who donated money by purchasing pink socks. Our MYS community raised $2,000 to be donated to the Georgetown Lombardi Comprehensive Cancer Center.