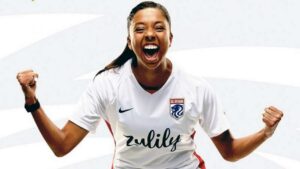 McLean alum Madison Hammond has been through a whirlwind of publicity in the last few weeks. Her debut in the National Women's Soccer League is more than a personal achievement — she's now also the first player of Native American descent to sign a contract and step on the field for the league. With her first appearance in an OL Reign jersey in the Sept. 26 match vs. the Utah Royals came a slew of interviews, video appearances, and even congratulations from legendary women like Billie Jean King and Gabrielle Union.
Cheers to Madison Hammond (@gohaamm) on her #NWSL debut for @OLReign yesterday! ⚽️  She is the first Native American athlete to play
in the league. You have to see it to be it! #Trailblazer https://t.co/u0ySx6qrMu — Billie Jean King (@BillieJeanKing) September 28, 2020

Today's #WCW just had a history-making debut in the National Women's Soccer League (@NWSL): @gohaamm . Madison is the first Native American player in the NWSL, and marked her spot in history over the weekend when she took the field. More on her 👇🏾 pic.twitter.com/ne8d1jz6av.  — Gabrielle Union (@itsgabrielleu) September 30, 2020
Her rookie season in the NWSL follows an illustrious career at Wake Forest where she was a four-year starter, and a stint in McLean's notorious ECNL program before that. She joins a slew of professional players from McLean and is the second alum currently active in the NWSL today. But, though much of her youth soccer career was spent in Northern Virginia, her journey to the national stage began before she moved to the east coast at the age of nine. "I actually started playing soccer awhile before I moved to the east coast. I started playing in Albuquerque, New Mexico, but I actually played with boys. And I think that was really important for me from a competition standpoint — always wanting to beat the boys and stuff like that." After arriving in the DMV, she was initially searching for more boys teams to play with. But the competition in the area showed the girl's game was just as challenging. She played for PWSI for middle and part of high school, eventually moving on to McLean as a sophomore.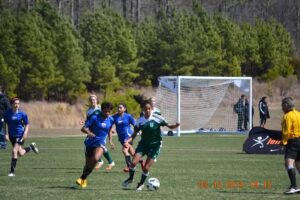 Madison Hammond joined her McLean ECNL team as a high school sophomore.
"I credit a lot more of my success to McLean and my relationship with Clyde [Watson] and the type of environment that I had and what it did for me getting to the next level which is college," she said. "I did spend a lot of time at Prince William, I won two state cups there, and it was fun being on that team. But there came a point in time where I knew I needed to get better if I wanted to play college soccer."
Hammond and many of her McLean ECNL teammates went on to continue their soccer careers in college.
Although the transition to the east coast was a huge stepping stone for her playing career, it made it much more difficult to connect with her Native culture. Being of Navajo and San Felipe Pueblo descent, many of their traditions and rituals take place within the community — which she and her family left behind in New Mexico.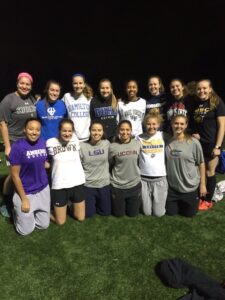 Both her mother and her sister spent significant time growing up on a reservation in their childhood, further connecting them with their heritage as Native Americans. Because of her family's move, Hammond didn't get to do so — but she recognizes the necessity of her mother's decision to move the family east.
"For my mom a big thing was, in order for Native American people to succeed sometimes you have to leave home. And the reason you have to do that is because there are less resources and less opportunities."
Though a difficult decision, Madison's family still tried to keep her connected to her culture by returning home to New Mexico for things like traditional feast days and ceremonial days. And when she moved to college, she recognized the opportunity to explore her own culture further.
"Once I went to college it's the first time you're really alone and you're on your own," she explained. "College is the first time you're really making your own decisions outside of what your parents are already planning, so for me I realized that if I wanted to lean back into my own culture I would have to do it on my own and maybe answer questions from people like, 'Oh what are you?' and 'That's so cool, but what does that mean?'."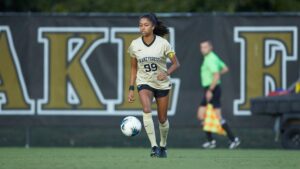 Madison Hammond was a four-year starter during her collegiate career at Wake Forest.
The freedom of the college environment meant she was able to deeply dive into her identity and how it shaped her as an individual. She even wrote extensively about cultural identity formation in her senior thesis.
After completing her collegiate career at Wake Forest as a team captain in the fall of 2019, she graduated early soon after in December to better position herself to play professionally. Wake had not done as well as hoped that season, so Hammond was unsure about the likelihood she would get picked up in the NWSL draft. She traveled overseas to try out for two different teams in Spain.
The draft took place simultaneously during her tryouts, where she received word that OL Reign (Seattle Reign at the time) had acquired her rights. She returned home and soon after flew to Tacoma in March to participate in the Reign's preseason camp.
COVID hit soon after, sending all non-contract players home for the foreseeable future. Hammond was told only invited players would return to the team when things calmed down.
"In my head there was so much uncertainty but I realized all I could do was train and be as fit as I could. I trained a lot on my own and with a couple people who were brave enough to hop some fences. And it was all worth it."
Hammond was called back in for the Challenge Cup in June. She traveled to Montana with the team for the month prior to the tournament where the team avoided the strict restrictions of Washington State and created a secluded bubble to ensure they were ready to compete.
In the last week of pre-tournament training, Hammond was offered a short-term contract through the duration of the Challenge Cup. Days later, the Reign staff scrapped the short-term contract and opted for a long term, two-year agreement instead.
"I was just over the moon. I still can't really put that moment into words, but it felt like at least this year in all of this craziness has paid off to some extent."
Her first appearance in an NWSL game on Sept. 26 marked the true start to Hammond's rookie year. And though it's easy to get caught up in what's next, she's just looking forward to progressing where she is right now.
"I'm just happy with where I am getting to develop. I've always described myself as a slow burn. I'm not going to come out of the gates as a show stopper — that's not who I am — but over time I'm hoping that me being consistent and putting my head down and doing the work will pay off."
Using the national stage to showcase her culture is just another positive from the experience. She hopes that other Native American kids see her journey and success and understand that they can reach their dreams as well.
"Now I'm at a point where I want to give back and I want to see more Native American kids come behind me," she said. "And more than anything, I'm grateful that it's gotten people talking."
You can watch Hammond in the last two games of OL Reign's 2020 fall season on Oct. 10 at 8 pm EST on Twitch, and on Oct. 17 at 8 pm EST on CBS All Access.