There are few people more well-known in the DMV soccer community than Clyde Watson.
Currently MYS's Technical Director, his career has spanned a handful of different roles — from playing and coaching at the professional level to working with young players like his current U12s — and as a result, Clyde has impacted the lives of hundreds of players and coaches alike.
His teams have brought home numerous elite trophies, sent players off to prestigious collegiate programs, and are renowned for their success around the country. But coaching was not his original plan.
"I didn't think [coaching] was something I would pursue, but it's something that I've always done and always enjoyed doing," he said.
His journey to the sidelines began in Guyana, where he was born and grew up around the game.
"For as long as I can remember, myself and my brothers, we always played soccer. I couldn't tell you when it actually started, but we played forever. And basically we all played in the same club and matriculated through the various divisions."
By the age of 14 he was playing in the top division in his area. Within a couple years, he was scouted by the Clemson University coach and joined the team at only 16 and a half. Including himself, the team was almost entirely made up of international players.
"That was pretty unique for the time," he said. He and his teammates lifted the Tigers to an impressive two NCAA Final Four appearances, and — in his own words — only lost four or five games during his time there. On top of that, Clyde was named All-ACC all four years of his career.
Though his talent as a player was clear, he didn't expect to continue playing after college. His main objective was to use his degree in geology to return home to Guyana and work in the bauxite industry. His coach at Clemson had a different idea.
"One day my coach called me into his office and he said, 'Hey, there's this team in New York that is interested in you.' And I said I'm not interested. And he said, 'Look, they're going to fly you up for the weekend, all expenses paid, they're going to put you up in a hotel. I think you should do it.'"
He attended the tryout in NYC during a historic snow storm, turning a weekend trip into an entire week. The snow prevented the group from playing outside so the tryout took place in a gym. Professional players from all over the world were there — and Clyde saw that he could hold his own amongst the talent.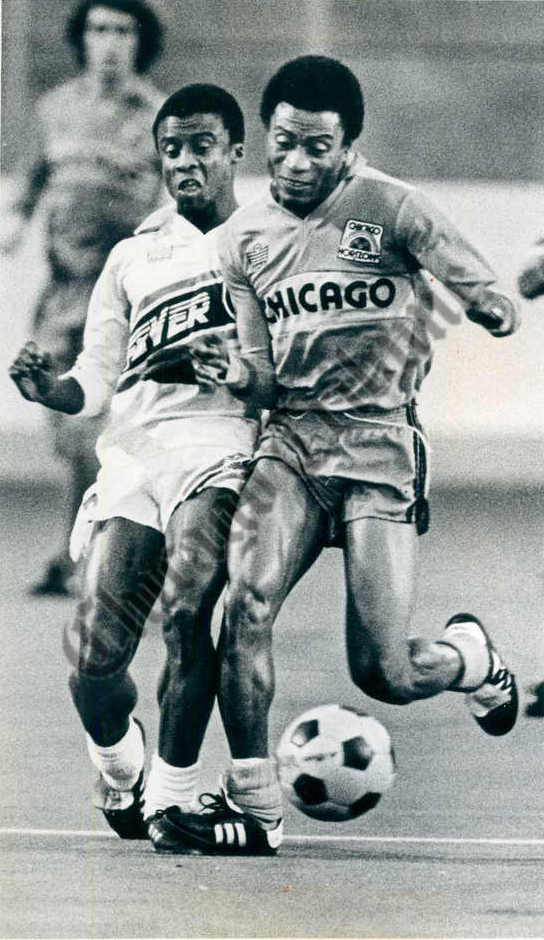 Clyde Watson (left) started his professional career with the USL New York Eagles.
So began his decade-long professional career. Starting with the New York Eagles in the American Soccer League, he also went on to play with the Pennsylvania Stoners, Detroit Express, and various indoor teams around the country. He also spent time overseas in the former state of Yugoslavia.
While he played, Clyde started dabbling in coaching on the side.
"Like my professional career, I didn't plan on coaching," he said. His mentor from home became instrumental in opening his eyes to the possibility of making soccer a long-standing career.
"As a kid growing up, I knew this guy August who was my mentor. And later in life when I moved to Washington, D.C. our paths crossed and we started coaching and working together," he explained. "August was instrumental in me at least considering that maybe there is something here, maybe this is what I want to do."
Clyde's move to the DMV in 1984 allowed him to start coaching seriously through camps and clinics. He took teams at a variety of clubs and built up his name in the soccer world.
Eventually he was coaching at the highest levels — after becoming the Director of Coaching at Team America and heading the UDC Men's Soccer program, he was brought on as a founding staff member of the Washington Freedom team in 2001. Legendary players like Mia Hamm and Abby Wambach as well as a slew of international talents came through the club under his guidance. Before the WPS folded in 2011, Clyde and the Freedom took home two championship titles.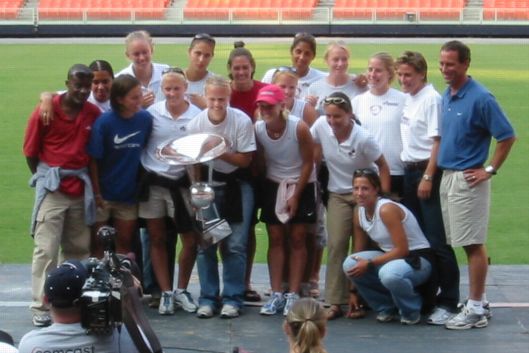 Clyde Watson was the Assistant Coach for the Washington Freedom from 2001-2010.

With many high-level experiences under his belt, he simultaneously began working with McLean — working his way from assistant coach to Age Group Director. The teams he worked with became renowned for their success.
His youth groups took home national finalist and champion titles, won Super Y championships, were crowned VYSA State Cup winners over a dozen times, and more. Clyde himself gained recognition at the state and national level — he was named NSCAA 2007 Youth Girls National Coach of the Year, USYS 2011 Region I Girls Competitive Coach of the Year, VYSA 2011 Virginia Girls Competitive Coach of the Year and 1998 Boys Youth Virginia Coach of the Year.
His philosophy with all his teams has proven beneficial, both on paper and through his players' individual successes on and off the field. Many have gone on to play at higher levels or have become well-decorated coaches and staff in other clubs. To him, soccer is mostly just a way to develop transferable skills for kids to use the rest of their lives.
"I don't promise that you're going to win a national championship or anything like that, but I do promise every kid two things — that you'll become a better player and become a better person," he said. "And we realize that team sports lends itself to preparation for life. And I feel that part of my responsibility is to help share the values that you can get out of this sport so that maybe you can use it at a later date in other areas of your life."
Outside of Clyde's team success, his ample time at McLean also helped him develop relationships with more and more players and staff over the years — many of whom still reach out to him today.
"Now there are a couple of players that I've got letters from 20 years after I've coached them that indicated just how fortunate they felt their time with me was. But there are a handful of instances that any time I want to ask myself why am I still doing this, if I reflect on those people and those moments, it's enough to say, I know why I'm doing this."
Now McLean's Technical Director, Clyde's role has shifted to include both administrative and on-field responsibilities. He works with teams of all ages, though he feels like his coaching is moving younger and younger.
"Over the years I find myself migrating younger and younger and younger. And I suspect that trend will continue. I don't know that I enjoy that more, I just feel like it's an area that I can contribute to. I'm doing a U12 group now, and I'm just having the best time of my life. Over a short space of time you see evolution and it's very, very gratifying."
Along with coaching, he hopes to give more time to his fellow coaches in a mentor-type role. Though he believes he has knowledge to share, he recognizes coaching soccer is a constant learning process.
"[My mentor] always said to me, 'Clyde, when you finally figure out what this game is all about, you're too old to do anything about it,'" he explained. "The game will evolve, you have to evolve with it, and nobody knows everything. So as a coach, if you're aspiring to coach at higher levels or at a better level, you better approach it with the belief that just around the turn there is something there for me to learn. If you think you've got it figured out, you've just lost it."
Clyde will continue to impact players and coaches for years to come. His passion for the game is infectious and his experience is unmatched.
"I came to realize, 'You know what, I can coach soccer — but the reality of it is that you can impact people's lives and you're just using soccer as the vehicle,'" he explained. "And some of the most lasting memories and friendships I've had have come with and between people that I've mentored or coached or worked with over the years. And for that I am eternally grateful."